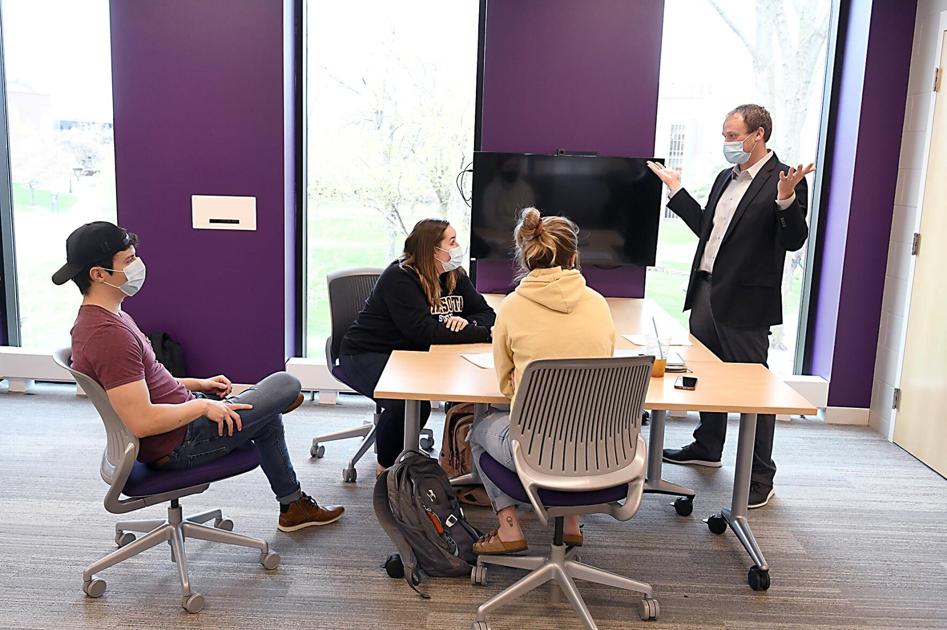 Mental health crisis hurt by need for more workers | Local News
After finishing up her last class as an undergrad in Mankato earlier this year, Amily Smith excitedly spoke about her plans to enter the mental health workforce.
The recent graduate from Minnesota State University gained experience as a recovery advocate at House of Hope in Mankato and as a medication technician at Wellcome Manor in Garden City. Both experiences solidified her interest in helping people with addictions, a co-occuring disorder for many people with mental health conditions.
Post graduation, Smith began an alcohol and drug counseling internship in St. Peter. In an encouraging sign for outstate Minnesota, she said she'd prefer to work outside the Twin Cities.
"I want to stay in rural Minnesota," she said. "There's just such a need down here for quality treatment."
The need only grew during the COVID-19 pandemic. What was already a gap between mental health needs and mental health services in rural Minnesota could now be a chasm.
To close it, many more workers such as Smith will need to enter and stay in the field.
A longtime problem
Recruiting and retaining enough mental health workers to keep up with needs will be one of the many obstacles Minnesota and other states face during a worsening mental health crisis. Minnesota just isn't keeping up with the needs, said Thad Shunkwiler, a licensed mental health professional and one of Smith's professors at MSU.
"We're not producing enough new providers to replace the providers who are leaving the field due to age, or burnout, or it not paying their bills," he said.
It isn't a new problem. While testifying at a Minnesota House panel on the shortage in February, Sue Abderholden, executive director of the National Alliance on Mental Illness in Minnesota, said it's always been an issue here.
"We've never had enough mental health professionals in the field," she said. " … In order to really meet the needs, especially in light of the pandemic, we need to start doing something."
What the shortage means for many patients is longer wait and travel times for services. It's the exact opposite of what someone experiencing a mental health crisis needs.
Even if providers have the infrastructure in place to handle more patients, as is the case with some organizations, they need more workers to do so. A 2019 presentation by the Minnesota Department of Health's policy division showed how many more licensed alcohol and drug counselors will be needed in the state going forward.
Teri Fritsma of the health department gave the presentation at the Minnesota Association of Resources for Recovery and Chemical Health annual conference. She cited data finding 170 students had graduated from substance-abuse counseling programs in Minnesota in 2016.
The total wasn't close to enough to meet how many openings were projected in the field. Employment data forecasted 320 annual job openings for counselors between 2016 and 2026.
These shortages are seen across the board in mental health fields, not just in the substance-use disorder field. And an earlier health department report on the subject from 2016 identified stark disparities in population to provider ratios between the southwestern region, which includes Mankato and the surrounding area, and the Twin Cities.
In the Twin Cities, the report found one psychologist for every 1,183 residents. In southwestern Minnesota, the ratio was one psychologist for every 2,733 residents.
Similar disparities were found for other provider types. Psychiatrists, social workers, marriage and family therapists, licensed professional counselors and psychiatric nurses were all far more scarce in Mankato's region compared to the Twin Cities metro.
The more isolated the area, the more scarce providers get. Only 2% of drug and alcohol counselors worked in isolated rural areas, equaling about one provider for every 13,576 people, according to the 2019 analysis — the ratio in urban areas was 1 to 2,786.
All these troubling ratios came before the pandemic, when 80% of Minnesota counties qualified as mental health professional shortage areas. The situation has gotten worse since then.
An analysis from the Kaiser Family Foundation found the average share of adults reporting anxiety or depression symptoms rose from 11% in 2019 to 41.1% in January 2021.
It'll take years to fully grasp how many more people need mental health services, Shunkwiler said.
"It's a certainty that these issues have gotten worse," he said. "The scary thing is, with behavioral health issues we won't fully understand how bad it is until four or five years down the road."
Avoiding burnout
Smith's last class at MSU in April was Shunkwiler's course on health care ethics. In recapping the semester that day, the assistant professor stressed how the students will have great responsibilities as therapists and counselors.
"In many instances you will have people's literal lives in your hands, and that's an awesome power, but with that comes great responsibility," Shunkwiler told his class. "That responsibility is that you will do the right thing; be a professional through and through."
The class covered burnout, an occupational hazard in mental health. Recruiting workers is one thing. Keeping workers in the field is just as important.
Seeing so many patients in crisis can take a toll on mental health workers. Vicarious trauma, or secondary trauma, happens when counselors, therapists or others in helping professions are repeatedly exposed to another person's trauma and become traumatized by it themselves.
As Jennifer Londgren, the coordinator of the alcohol and drug studies program at MSU and a researcher on self-care strategies, put it: "Even though you're not physically going through that trauma, you're vicariously going through it." Londgren spoke to Shunkwiler's class and has led workshops on the topic.
Smith and her classmates talked about how they plan to practice self-care as a way to avoid burnout. For Smith, leaving work at work will be one of the keys.
Eating healthy, self-awareness and having a good social circle that can watch for signs of problems will also help, said student Anna Zwach.
"For me it would be like having either the treatment team or friends and family keep an eye on whether I'm running on empty," she said.
Student Mike Edison had experience as a youth counselor but hadn't yet worked directly with people with chemical dependency. He talked about the importance of supportive roommates or significant others or colleagues to help avoid burnout.
It's motivating to know the field needs workers, he said. At the same time, the urgent need brings pressure.
"It's nerve-wracking because, when there's not that many people, you stick out more," he said. "I feel like there's a lot of responsibility."
Better pay and reimbursement rates could keep more people in the industry or at least make burnout less likely to drive people from it. Abderholden's testimony to the House panel referenced median wages for mental health providers lag behind wages for comparable health care providers such as registered nurses, dental hygienists and respiratory therapists.
Student loan forgiveness available to certain Minnesota mental health professionals showed signs of promise since 2016, helping recruit and retain 133 workers statewide between 2016 and 2020. Licensed alcohol and drug counselors, however, aren't yet eligible for the aid.
Rural needs
While mental health workers are scarcer in rural areas, research also shows rural Minnesotans have higher rates of mental distress and suicide.
So the residents more in need of mental health services are less likely to have access to them. And when they do have access, they have to travel farther to get it.
The best mental health care would be accessible close to home and on short notice. Someone experiencing a mental health crisis can't wait weeks to get help, and transportation barriers might prevent them from going far for services.
Yet rural patients seeking inpatient mental health and chemical dependency treatment travel three times longer for services compared to urban patients, according to the report. The Mankato area has treatment options nearby including House of Hope and Wellcome Manor, but options get fewer and farther between the more rural you go.
These disparities are why Shunkwiler and other advocates keenly watch for students who express interest in working in rural Minnesota. Often the students grew up in rural settings, although some from larger metros also seek smaller communities for their careers.
Along with Smith, Zwach was also considering working outside the Twin Cities once she graduated. Zwach grew up in Tracy, a small town in Lyon County.
She's not sure exactly where she'd like to work once she graduates but named Owatonna or St. Peter among the cities she's looked into — each are within mental health worker shortage zones.
Zwach has seen firsthand how challenging it can be to receive treatment in rural Minnesota. Visiting a family member at the nearest treatment facility required a one hour and 15-minute drive each way.
It was far from easy access, Zwach said.
Her experience seeing family members experience addictions influenced her decision to pursue being a counselor. It's a common background for people entering the field, and Zwach said she's eager to help people.
"There's a need, and I'm going to satisfy that need," she said.
If any good has come from the pandemic, it could be how it strengthened students like Zwach and Smith's resolve to seek jobs in mental health care. The pandemic showed the work is more needed than ever, Smith said.
"It's made me want to go into it even more to help those people learn how to cope with it," she said.