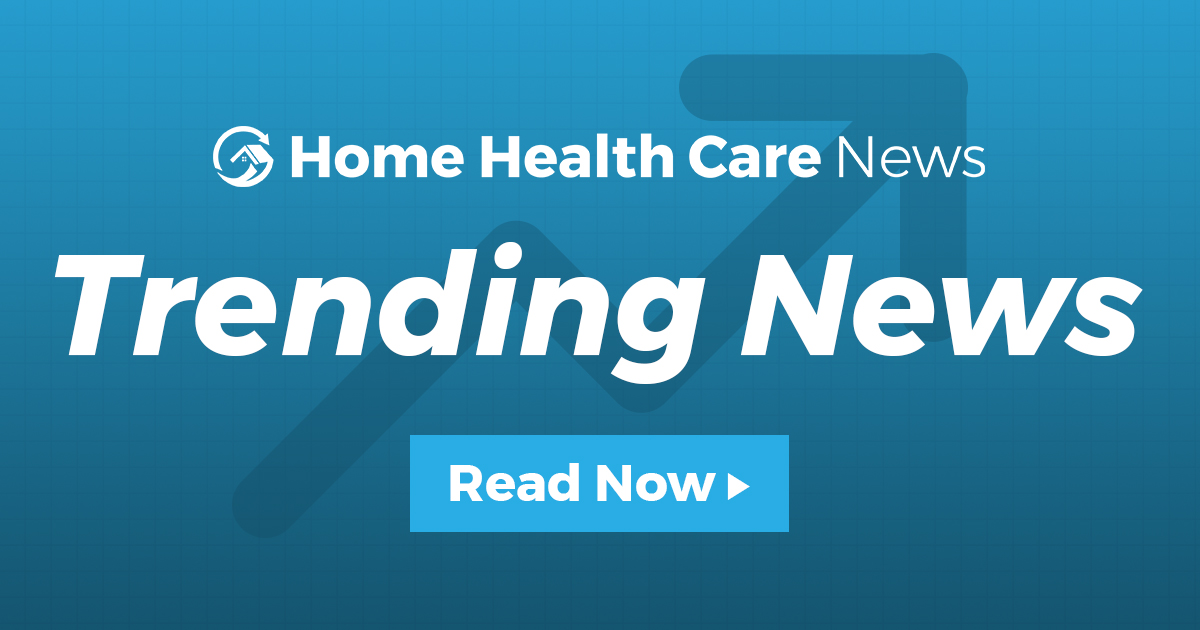 AccentCare CEO: Home Health Industry Can't Become the 'Last Refuge' for Unvaccinated Workers
After months of taking a more passive approach to COVID-19 vaccinations, home health providers are starting to turn up the heat on their workforce.
On Tuesday, Sarasota, Florida-based Empath Health — a home health, hospice and home care provider that also offers palliative care and more — announced it will require COVID-19 vaccinations for all staff, volunteers and vendors. Chicago-based CommonSpirit Health has similarly said that all of its 150,000 employees across the nonprofit system, presumably including home health workers, must be fully vaccinated by Nov. 1.
Contextually, these and other home-based care organizations have taken a stronger stance on COVID-19 vaccinations after the U.S. Centers for Medicare and Medicaid Services (CMS) announced new requirements for nursing home operators.
While Dallas-based post-acute care company AccentCare Inc. does not currently have a blanket vaccine mandate, it has signaled to its workers and the home health industry at large that it's possibly trending in that direction. AccentCare told its senior leaders and managers Tuesday that they'll all be expected to receive vaccinations moving forward, if they haven't done so already.
"Like most of the industry, we have taken an incredibly aggressive approach in encouraging vaccination within our populations," AccentCare CEO Steve Rodgers told Home Health Care News before Tuesday's announcement. "We are moving ahead with our leadership now. I'm talking down to the regional level. They have to be vaccinated. It's very difficult for me to see how we can lead our field staff to be vaccinated if some of our leaders aren't themselves."
The private equity-backed AccentCare has more than 30,000 in-home care professionals across its 31-state footprint.
About 70% of the company's workforce is currently vaccinated, according to Rodgers. The remaining 30% is made up of people firmly against COVID-19 vaccines and individuals falling into a "middle category" who may simply need more information before making a decision.
"We have an entrenched population out there right now of people who have made their personal decisions at this point," the CEO explained. "We've got to figure out another approach to partnering with them and educating them. We need to get them over the line."
Taking a stand
At the moment, AccentCare hasn't implemented a mandatory vaccination policy for field staff, Rodgers said. But doing something like that isn't out of the question if the home health industry continues to fall behind other settings.
In addition to the leadership announcement, AccentCare has joined a new initiative with the National Association for Home Care & Hospice (NAHC), the National Minority Health Association (NMHA) and the Flex for Checks program to encourage workers.
NAHC estimates that the vaccination range for home-based care workers is between 40% to 90%, depending on the company and the discipline of the worker. In comparison, about 62% of the overall nursing home workforce was vaccinated as of Aug. 8, according to CMS data.
First and foremost, striving toward higher vaccination rates is about patient and staff safety, Dr. Anna Loengard, AccentCare's chief medical officer, told HHCN.
Recommended HHCN+ Exclusives
As a provider that cares for high-risk populations, AccentCare is careful not to send an unvaccinated worker into a patient's home. As an employer, the company likewise doesn't want to put an unvaccinated clinician into harm's way by sending them into a COVID-19 patient's home.
That has become an especially important priority with the Delta variant spreading across some of AccentCare's key markets, Loengard noted.
"Our patient population has essentially doubled in the last week — patients who we have on service with COVID," she said. "It seems like this is really just an exponential increase that we haven't seen before in quite the same way."
Yet achieving high vaccination rates is important from business and operations perspectives as well.
As of Wednesday, more than 150 health systems had implemented mandatory vaccination policies. As of Aug. 10, nearly 1,500 hospitals — roughly a quarter of all hospitals in the U.S. — required staffers to get a COVID-19 vaccine, according to the American Hospital Association.
AccentCare has a long list of hospital and health system referral partners. On top of those standard working relationships, it additionally has several close joint venture agreements, with a few partnership examples being Baylor Scott & White Health, Fairview Health Services and UCLA Health.
"We have several joint venture partners — Fairview up in Minnesota, for instance — that have required vaccination of their population, so it's hard for us not to," Rodgers said. "It's hard for us not to have the same requirement as our JV partners. We definitely take that into consideration, as we're kind of going forward into this."
At the same time, Rodgers said he worries about what may happen if the home health industry becomes the only part of health care without vaccination requirements.
Nursing home advocates have voiced concerns over federal mandates shifting unvaccinated facility-based workers into other settings, exacerbating staffing shortages in long-term care buildings. But if home health providers pick up those workers, they'd still be limited in how and where they use them.
"As an industry, we do not want to be the last refuge of unvaccinated people," Rodgers emphasized. "I think we as an industry have the same obligations as our hospital partners and others out there to essentially move together. We need to collectively take a stand around this."
'We didn't have to be here'
The more contagious Delta variant is causing COVID-19 cases to rise in 42 states, with deaths rising in 43 states, according to a USA TODAY analysis of Johns Hopkins University data. To make matters worse, a new study from the CDC suggests immunity to COVID-19 from vaccines might be declining.
At AccentCare, the case increase has partly led to more staff being unavailable to work.
"If you look between the beginning of July, which was the low point for people not working, to where we are today, it has increased six-fold," Rodgers said. "That's the number of people not working because of COVID or COVID symptoms."
Looking ahead at the next 60 or so days, AccentCare is preparing itself for another spike that materialized faster and looks far different than the previous surges of 2020.
"It's a whole different disease this time, and I believe it's going to probably spike faster on us. I think it's going to actually have a larger impact," Rodgers said. "We've all got to get prepared. We've got to get our staff prepared. We already have an exhausted population, which is why this is more frustrating than anything because we didn't have to be here."